Does it really get any better than adorable little kittens running around?
I think everyone can agree that sitting in a room with fluff balls crawling all over you is perhaps one of the happiest, purest moments of life that one can experience.
Kittens are undeniably hilarious, and of course, all-around precious. If you have a kitten already, then you know it's paw-sitively true!
If you haven't had a kitten before, you are a certainly meow-ssing out (wink wink).
That's okay though because you are in luck!
This summer, the single greatest thing that has ever happened to St.George is going down– a Kitten Palooza at Lovin' Arms Pet Center on July 13th!
That's right, a Kitten Palooza! "What is that?" you ask?
Well, it is your opportunity to come on down to Lovin' Arms and meet over 50 different fun-loving kittens from RSQ Dogs+ who are ready for their forever homes!
Here are 5 Reasons You Should Adopt A Kitten This Summer:
Kittens Are Adorable… Duh!
The first, and basically only reason, to should adopt one of these sweet purring little kittens this summer? Because they are adorable, duh!
I mean really, why are kittens so adorable?
It can't be because of their snuggly, fluffy, teeny tiny bodies can it?
Maybe it's because of their pure, angelic baby meows and kitten breath?
Regardless… they are effortlessly adorable for some reason. You simply can't say no to those cute faces!
Don't deny your natural instincts– adopt a kitten this summer.
Kittens Are Quite Silly
If you know, you know.
Kittens are indeed, quite silly and hilarious.
There is something so hilarious about tiny fluffballs doing silly things. It's like, if a person did these things, we'd be super pissed right?
But if a kitten does something naughty, we just giggle and say "awww".
Kittens are masterminds. They get away with every naughty thing with just one bat of the lashes. #melted
They could chase laser pointers for hours and we're still entertained because it's somehow hysterical.
And how priceless is it when they toss their little kitten toys up in the air and chase after it? They could play all by themselves for hours.
They can knock your cup of water off the counter, or parkour off the bedroom walls, and yet it is absurdly amusing to us.
Kittens get away with so much more than humans ever could because they're so darn adorable and silly!
If I saw some kid parkour off of my bedroom wall, I would probably pour the entire contents of my squirt bottle over his head, not just laugh and spray him a few times like I would a kitten…
Is there something wrong with me?
Kittens Make The Best Cuddlers… When They Feel Like It
Yes, I would say most people are under the impression that cats are not cuddly creatures. And hey, to their credit, a lot of them are not.
The key to scoring a cuddly cat?
You start 'em young, i.e. adopting a cat as a kitten and forcing your cuddles upon them.
Then they shall cuddle you for infinity, muahahah!
They'll get used to it. Probably…
Well, they'll squirm out of your arms a lot– it only breaks your heart for a second as you watch them swan-dive out of your arms for their dear lives.
But the more you love on them as babies, the more likely they are to frequently seek you out for cuddles and affection as adults.
Eventually, you'll find yourself with one cuddly kitten… or two… or five?
Your Kitten Could Make You Famous
What is the most popular trend on the internet right now?
That's right– cats.
Cat memes, cat videos, pictures of cats, stories of rescued cats, silly things cats do… Lions and Cats and Kittens oh my!
That meme is a real knee-slapper isn't it?! Gets me every time.
Cats have a certain Je Ne Sais Quoi about them. They're just that one thing that you can see on Facebook on your worst day, and you'll still find yourself sitting there with a goofy smile.
Cats make people laugh and cheer people up without even meaning to– like all animals, kittens truly are a blessing.
Cats go viral! Your kitten could make you famous and be the next kitten-kardashian – so adopt a kitten this summer and start recording!
Kittens Make Great Companions
Despite the popular notion, cats actually do make for fantastic companions.
Do you think Cat Lady Carol down the street would have 10 cats if they weren't good companions?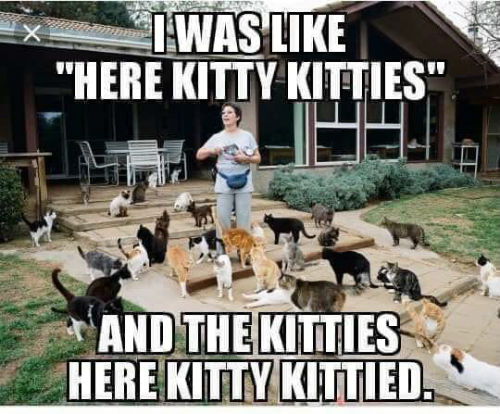 Cats, while adorable, hilarious, and meme-worthy, are extremely misunderstood!
They have a bit of a bad rep right? They're "mean" or "not affectionate" or "they don't care about me".
Not true! Cats just like to play a little game. It's called Reject The Human so They'll Want Me More.
It's a lot like dating in St. George…
We humans always want things more when we're told we can't have them right?
Did I already mention cats were secretly masterminds?
They know how to play the game, but trust me when I tell you– they love you more than you will ever know.
Cats make for incredible life companions just as much as dogs do; they enjoy the occasional cuddle, they love on you when you're sad, and they'll eat ya if you die in your home!
(P.S. that's never actually been proven…)
Adopt a RSQ Kitten This Summer!
Long story short– join us on July 13th, from 11 am to 3 pm at Lovin' Arms Pet Center and meet some adoptable kittens this summer!
All of the kittens who will be gracing us with their presences are with RSQ DOGS– a Nonprofit Animal Rescue here in St.George.
Get Pre-Approved at rsqdogsutah.org to take home one of RSQ's 50+ adorable Rescue Kittens! There will be a Raffle, Prizes, Music, Food, Fun, and most of all KITTENS!
To purchase raffle tickets
• Raffle Tickets are a $2 donation per ticket- you can donate at rsqdogsutah.org – OR – via Venmo @RSQ-DOGS
• Leave us a note and contact info with your donation to let
us know it's for a Kitten Palooza Raffle Ticket
• We'll send you an email/text to confirm your tickets
All RSQ kittens are vaccinated, microchipped, spayed/neutered. To learn more about RSQ Dogs+, or to fill out an adoption form for Pre-Approval, head to the RSQ Dogs+ website at https://www.rsqdogsutah.org/animals-for-adoption.?
Donations for the raffle or to provide for the kittens can be dropped off at RSQ DOGS+ Adoption Center and you will be given a FREE Raffle Ticket for one of our Kitten Palooza prizes on July 13th!
We'll see you this summer! Come on by and take your sweet purring kitten home forever❤️
RSQ DOGS+ focuses on rescuing animals from the Rural areas of Utah that are not serviced by Animal Control, and have limited resources for pets!

Our Mission is to be a voice for the voiceless; bettering the lives of the forgotten, abandoned, and abused animals in rural Utah while inspiring the community to get involved.
"No one can do everything, but everyone can do something."
Namaste ༂
Here are some more pictures of some of our upcoming adoptables you'll see this summer!
Photo Cred: Cheryl Almy