Hi all! As you may know, I have rebranded my business to Copper Content! With the help of Sixth Avenue Design, we have curated a beautiful new brand which I am totally in love with! Go check out our stunning website, which I built myself of course!
Seeing as how leahrobertswriting.com is an older website, with more years of SEO work, I figured I could make my next blog about the new brand, give myself some brownie points in Google if you know what I mean! First, let me start by explaining what is going to happen with this website. Then I'll jump into why I rebranded, and what the difference between these two entities will be from here on out!
What's Happening with Leah Roberts Writing?
Nothing! It will stay on the web forever!
Not only will it serve as a useful tool for SEO regarding my Copper Content website, but it can also serve as my own personal brand. Eventually, though, I would love to completely reshape what it's about and rebrand it a bit as well. Take away the marketing aspects of it, so that information can lie completely on Copper Content.
Instead, my future vision for leahrobertswriting.com will be my own personal blog and portfolio (I'm planning on making my name pretty big you know?), but also as a resource and directory for vegan food of St.George Utah. St.George is growing incredibly fast, and there is a growing diversity here as well.
I love food, it's one of my many passions! And I would love to continue making the lives of my fellow vegans a bit easier, by providing some of my favorite recipes, as well as some insight knowledge into St.George.
So that's my plan for this website. Now let's talk about Copper Content because I am SO excited about it!
Why Copper Content?
After many hours, days, weeks, and even months of deliberation, I went with the name Copper Content. Along with it, came natural holistic types of colors – soft beiges, sagey greens, and deep rustic coppers. I wanted the brand to scream sophistication, but with a down-to-earth feel. Like Apple, but honesty and integrity (hehe). If you haven't visited the site yet, here's a little peek at our new logo!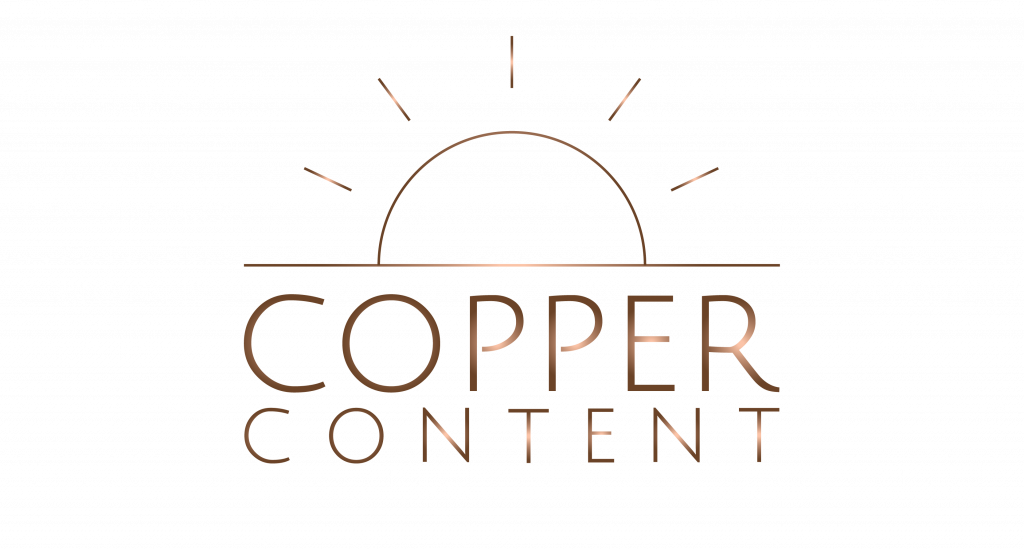 How freaking beautiful right!? Now go check the website and social media out, because I am finally so proud of my brand!
Why Rebrand?
Leah Roberts Writing was never the branding I envisioned for myself. It does not reflect me in any way (I hate the color pink). I was also a different person back then, but the website fell together quickly, as a way to begin my story. It was the beginning of my story and of my career.
Since then, I have grown. I have tried and failed. I have succeeded too. I have learned and had to relearn, so many times through these past 4 years. It's time to reflect my path– my skills, knowledge, expertise, and mindset, into a brand I am passionate about.
I hope you've enjoyed Leah Roberts Writing chapter 1 because chapter 2 is coming in hot with Copper Content! I have put so much time and love into this new brand. It is something I am so proud of and have worked so hard on for so long. I hope you all love it as much as I do. My heart and soul live in this new brand.
What is Copper Content About?
As I stated briefly before, I want to keep Leah Roberts Writing as a sort of personal portfolio, and keep the marketing aspects to Copper Content. I want a beautiful, professional brand to showcase my skills and to build trust with my audience.
Copper Content essentially took all of the digital marketing responsibilities away from Leah Roberts Writing, so that Leah could focus on her other passion – food.
Copper Content Holistic Digital Marketing
Therefore, Copper Content is a Holistic Digital Marketing service.
What is Holistic Digital Marketing? By definition, holistic means: "relating to or concerned with wholes or with complete systems rather than with the analysis of, treatment of, or dissection into parts."
Holistic Digital Marketing is the management of your entire online presence. You can trust that everything that lands under the digital marketing umbrella, is taken care of by Copper Content. Invest in the whole, complete system rather than the dissected parts✨
Copper Content is still a small business, with just a few hands and loads of passion working for your business behind the scenes. But eventually, as we begin to grow a bit more, I will require some more help. If you know me though, you know that I don't want to be a marketing agency.
My whole philosophy about freelancers being better than an agency still rings true and strikes a chord in my heart. I will never sell out, I vow to you now, in this moment!
I want to continue to support other small business owners in Southern Utah with my own variety of digital marketing services, while soulfully collaborating with other talented freelancers in the area that offer services that I do not. Such as graphic design, branding, videography, that kind of thing.
We want to meet our clients' needs every time, affordably and holistically.
So the same thing I've been doing, but with more depth, detail, and realness. Sophistication and integrity, with down-to-earth tones.
However, there is one big difference that Copper Content offers, that I did not offer before here at leahrobertswriting.com.
Digital Marketing Education and eBooks
That's right ya'll! I have decided to take what I have learned over the years, and share it with the world. Here's how I came up with this idea:
Marketing conferences and seminars out there talk about marketing trends, new platforms that are great to use, and changes in Google's algorithms. College courses talk about the same thing, and how to find your audience and demographic. But neither of these avenues actually teaches you how to USE the platforms in question.
Where are the easy, yet thorough courses that teach you step-by-step how to use Google Adwords? Which form of keywords is best to use so you don't waste your money? How to set up a new Search Campaign? How to remarket to the audience that visited your website last month?
How many seminars teach you how to properly execute SEO? The dos and don'ts? How to track your progress?
Which conferences teach you how to set up Facebook and Instagram ads? Do they teach you that you have to select where you want your ads to show, so you don't waste money? Do they show you how to set up AB testing, so you can see which ads perform the best?
I want to teach people how to actually use these platforms in the most efficient way possible! Step by step, with me guiding their way and answering all of their questions! There is simply not enough of this information out there, and a lot of the information that is, is inaccurate. Teaching bad practices, or skipping over important aspects.
Right now, I am beginning my educational resources with digital marketing eBooks that are purchasable through the store section of Copper Content.
Eventually, though, I would like to offer Digital Marketing Workshops. These can be done in 3 different ways: in group sessions, private classes, or online courses. It's quite the project, and it's going to take a lot of time. and energy to create all of the educational content I need to start these things up, but it will all be worth it in the end.
Go Enjoy Copper Content and Come Back!
With that, I hope you continue to visit my blog here at leahrobertswriting.com. I won't be going anywhere, but simply reshaping what I do here! In fact, I have a new vegan ramen recipe I tried last night and hot damn it was delicious! I brought the leftovers in my little crockpot today for lunch and it's all I can think about. So maybe I'll jump over into a new post and get a new recipe up for you this week.
Go check out Copper Content, leave me some reviews, and follow me on social media. I hope you enjoy this stunning new branding as much as I do.
As always, much love my friends. Stay in touch!
Namaste ༂